American Bill Money just keeps getting better all the time. I'm doing great and love it. After being a member for 3 1/2 years I just upgraded to the Pre-Pay membership. You can see the benefits on the post below. I should have done that years ago. More people are joining Pre-pay now they ever have. Those $900 fast start commissions paid the next day nice. Join ABM Pre-Pay today and I'll mail you a 1000 mail order leads on labels.  (free) ABM INFO
ATTN: New American Bill Money Website & Comp Plan Info….             
HUGE ABM Postcard Marketing Comp Plan News… No A 1UP Comp Plan
10 team members = $750 month Residual income
100 team members = $7500 month Residual income
 YES…HUUUGE American Bill Money News!!!
ABM is going to a 1UP comp plan starting Aug 1st. Everyone's first person will go to sponsor at $75 Month residual. After that all personals will be $75 monthly residual for you instead of $25. All 1UPs will go to you to infinity at $75 month residual. Much better for new people to get in profit. Just 2 people after pass up pays your autoship. More details coming. New postcard below. The best home biz just keeps getting better. Not on the website until Aug 1st. NEW Postcard Below. I'll be talking to Paul Monday to get more details.
April 5th. 2016
It's very easy to promote American Bill Money, offline and online. Offline just mail our ABM Postcards, buy cheap print ads in publications like Thrifty Nickle or Penney Saver. Online just post ads in Backpage and Herculist and they really work. So far today I've had 9 people opting into my ABM capture page system for more information. (free for our team) Here it is…  http://www.ABMleaders.com/redhot  Here's nationwide Newspapers for print and online ads.  http://www.nationwideadvertising.com/
March 31st, 2016
Here's a short video of my American Bill Money commission check stubs for 2014, 2015 and 2016. There's more than it looks like because I have too many to fan them out, some are stack over others.
Feb 9th, 2015
American Bill Money, the best in home income. I get tons of mail order type deals every week. All sorts, like mail a $20 bill to 5 people, Send 2 or 3 money orders and wait, and wait. With ABM we have 24/7 live operators taking orders on the phone, (757)455-3551 use ID 3526, company owner takes calls, closes sales. Join online with a debit/credit card, (real business). Products and commission checks in the mail the next day. This has been the ABM way of business for over 12 years. Commissions paid daily. www.ABM3256.com Daily Fast Start Checks, Weekly and Monthly Residual Checks.
Jan 28th, 2016
Jan 8th, 2016
Good news from Paul the owner of ABM today.
He called and said I had 2 new members join, one autoship and one Pre-Pay member from my downline for a $300 commission. (pre-pays pay out $900, $300 each for sponsor and 2 upline, 3 people)
A total of $375 for the day. ABM Rocks! 2016 will be booming. Plus I received a $225 check 2 days ago…
Jan 6th, 2015
If your looking at American Bill Money as an Income Opportunity for yourself, make sure you get the facts!
Make sure you call and listen to the recorded messages that completely explains everything by calling 1-800-632-0739.
Also visit my website at http://www.ABM3256.com after you've listened to all the messages and or reviewed my website you may call ABM's office at (757)966-1790 with any questions.
(Tell them you were referred by ABM customer #3256.)
If your ready to get started you may signup online or with our Live Operators who are available 24/7 by phone at (757)455-3551, the operators Do Not answer questions, they only take New orders from people ready to get started. Also I am available too… Please call me with any questions or concerns about American Bill Money at (602)410-4414.
I Would Like To Send You a Free Postcard Just Fill the Form Below
Join ABM Now…                                           CLICK HERE   Only a one time $25.
Nov 8th, 2015 Here's the ABM company Website Free Postcard Rewards page. I've been with American Bill Money 2 years and it just keep getting better. I still make a mistake a and join some other online biz once and while. What a waste of time. http://www.abminfo.com/rewards.html Today I dumped my advertising on about 3 other deals. 100% ABM. Here's the American Bill Money product Page… http://www.abminfo.com/product.html Aug 24th, 2015 ABM Rocks, best call ever from Paul owner of American Bill Money. He just informed me I had a new member join today on the Pre-Pay membership. That's a $900 check in the mail because of the new enhanced comp plan. (1/2 Direct Deluxe – message me for details). Also one of my new members just had a Pre-Pay member join. That's $300 to him, myself and my sponsor. Plus I received a weekly residual of $150. $1350 day! I'll never leave ABM! Pictures on the way. I don't post every check I get here. There's been been others since Aug 1st. www.ABM3256.com Aug 1st, 2015 We just returned home from a 9 day vacation and there were four American Bill Money checks in my mail box. 2 more should arrive this week. The ABM checks just keep coming in! Picture of the 4 checks below.
Here's our Top Team Free website system…. www.abmleaders.com/redhot Here's my Official ABM Company Website www.ABM3256.comJune 16th, 2015I would like mail you one of our ABM full- color postcards. Leave your name and mailing address on my message line below and I'll get it out to you today. (206) 600-9927April 16th, 2015 Here's our American Bill Money free marketing system, capture page, tour page and autoresponder system. This is exclusive for our top team members only. http://www.abmleaders.com/redhot After joining ABM and getting your ID# you can fill out the form on the second page to get your free system. All of out team members can provide this website to your their new members. (free) April 8th, 2015 American Bill Money Facts, Rewards and FAQ's. There's more than just mailing postcards with ABM. Treat it like a business and do whatever it takes to find a few good people. The ABM residual income comp plan can't be beat. Pages below from the company website explain. Plus $300, $75 and $25 fast start checks are mailed daily. http://www.abm3256.com/newsletter.htmlhttp://www.abm3256.com/rewards.htmlhttp://www.abm3256.com/faq.htmlApril 4th, 2015 I would like to send you a free American Bill Money high quality glossy full color postcard. Not a cheap ugly postcard like some of the junk cards many companies and their affiliates mail out. Just enter your info on the website here…. www.XoomUp.com Special for online marketers. We have free capture pages with a free autoresponder just for our top team members. Check it out here.. After joining ABM and receiving you ID number just fill out the form after opting in on the second page. http://www.abmleaders.com/redhot March 26, 2015 I just returned home from a quick 4 day trip Los Angeles. I had a couple of ABM checks in my mail box and also my monthly supply of 150 leads and postcards. My 500 free postcards I receive every six months should be here this week also. www.abm3256.com March 15th 2015 My American Bill Money paycheck stubs for a little over a year in the business. Fills up our kitchen table, several 100 from $25 to hundreds. ABM mails out checks 6 days a week. Fast Start Checks mailed daily, next day after new member joins. Residual paychecks are paid weekly and monthly. http://www.postcardcashking.com/ No internet skills required.
Jan 27th, 2015 I had a long conversation with Paul the owner of ABM the other day. Good news for the future. Join and Stay with ABM it will pay off big time. I would like to send you one of our high quality ABM postcards. Call this recoreded line and leave your mailing address and I'll get it right out to you. (USA only) –> 206-600-9927
$300 American Bill Money check on the way!!
Thanks again to everyone has looked at American Bill Money….
AND thanks to everyone who has joined…..
Always good to get these from Paul the owner of ABM….
"A guy on your 2nd level #9553 Richard, under Jeff #3837, referred a Pre-Pay today (#4725 Charlene), All 3 of you get $300 each next week !"
A $300 fast start check will be in the mail tomorrow for each of the three of us.
About 6 in the last year, covers the basic autoship plus $300….
More important is the daily fast start checks and the weekly and monthly residual checks as they are due.
Paul has mailed checks 6 days a week for over 11 years. It's a real business, you have work for them.
Check it out again…. www.abm3256.com
Scroll to the bottom, listen to the recordings.
(Plus I received 2 ABM checks today)
American Bill Money ROCKS
Jan 19th, 2015
FREE COPY – Think and Grow Rich – By Napoleon Hill free ebook – original 1937 version by Napoleon Hill. Go to www.abm3256.com click on EXTRAS then Personal Development. There's other self development ebooks and videos there also.
Jan 13th, 2015
Good News a new member joined ABM with me last night from a postcard I mailed on New Years Eve. It's going to be a great year for Direct Mail / Postcard Marketing. If you're starting to get tired of the Online Rat Race American Bill Money is a great option for home income. Everyone can place a sticker and a stamp on a postcard. Very few make real money online. Questions?
Jan 2nd, 2015
The Holidays are great but it's always good to get back to business.
I've been with American Bill Money for over a year now and am very
happy with what's going on. I decided months ago to jump off the
new pre-launch bandwagon. All the new hot deals are dropping like flies, I just keep plugging away with ABM. It's not an overnight get rich scheme but it works.
There's nothing like a "Business In A Box" postcards and leads included. No computer or internet skills required, anyone can mail a postcard. We do have free online marketing websites for any who wants them.
Those $25, $75 and $300 fast start checks are really nice when we receive them a couple days after a new member joins us. You would like that too! Then on the second month the 3 level affiliate $25 per member kicks in, a group of only 39 people below you and you have a $1000 a month residual income.
Paul the owner mails out checks 6 days a week, get your share.
All you need to know is right here… http://www.abmwiz.com
December 30th, 2014
It's True, With ABM
What More Could You Ask For?
www.abm3256.com/

My team and I are building a nice residual income for our selves and we all agree Paul is top notch.
A couple key things to know about ABM and the best postcard money making program so you get off to a running start. This is why ABM is the top choice.
– fast track bonuses. The company pays us a $75 bonus for every $125 monthly auto ship sale we make. This helps to cover initial costs for our stamps and post cards so we turn profit. Keep in mind every business whether on or offline initially we are not in profit so if the program can help us then we get there faster like ABM does.
SIMPLE- people need and want simple. There is nothing to do here but put the stamps and labels on our cards. The home office does all the closing and setting up of your customers. No time or too busy…no excuses now!
This is a list of things we need to learn to make a sale ONLINE:
Online Marketing Skills Needed For Success

SEO
Autoresponders
Facebook
Writing ads
Posting ads
Article marketing
Social media marketing
Youtube marketing
Pay per click marketing
Followup with prospects-call them
Dealing with google,yahoo,bing seo
Creating a blog or website
Writing followup emails
Paid advertising- find what works
Facebook PPC
StumbleUpon
Twitter
SUCCESS RATE: 3%
This is a list of skills needed to be successful in the Best Postcard Money Making Program, which would you think is easier?
Post Card Skills Needed For Success
Lick a stamp and place on post card (licking no longer required)
Mail the cards
Collect Checks
SUCCESS RATE: 83%
As you can see ABM just might be the answer you were looking for.
American Bill Money aka ABM is our Best Postcard Money Making Program recommendation as is offline!
********************************************************************************
When joining American Bill Money there are 2 levels of membership, the First is a Tester package which is $25 a Month that gives you a coupon for a $75 discount on the Lead and Postcard Packages and 4 Starter Postcards. The second level of membership is called Deluxe Package which is $125 per month and you receive the following:
Direct Mail Business Kit
150 Scripted Postcards

150 Leads (Printed on Mailing Labels)

150 ID Stickers for your Postcards

Live Operators 24 hours a Day

Toll Free Number Overview Call

Training and Support

A Free Marketing System (ABM Leaders Only Team)
Every New Member that purchases the Deluxe Package, you receive a $75 Fast Start Bonus
Plus $25 per month per member residual income payments
Here is a illustration of referring 7 Members:
Everyone just referring 3 people gets you a $1000 a month, find out more here WWW.ABM3256.COM
A member of American Bill Money money is made by referring people, and with each new referral, a commission is paid to the referring member. The commission is mailed by the company to the affiliate. The referrals are made directly with the affiliate, one gets a commission of seventy five dollars and the commission of twenty five dollars will be concurrent each month as long as the introduced member is active. When the 1st level recruit brings in a new member who are referred to as the 2nd levels recruit, the first affiliate gets a commission of twenty five dollars monthly in condition that the 2nd level member is also active. This will be the same even with the introduction of a 3rd level affiliate.
ABM Postcard Marketing For Offline and Online Financial Success
Free Capture Page With Autoresponder for Internet Marketers Click The Banner Below (Available for My Team Only)

AMERICAN BILL MONEY TOP TEAM REVIEW NEW American Bill Money Trial Membership Only $25
Find Out How You Can Achieve Financial Success Offline or Online With ABM Postcard Marketing
American Bill Money King Of Residual Cash With No Internet Skills Required
BUT! If your an Internet Marketer ABM gets a huge response online as very few people are marketing it online. My team has the system to succeed online or offline.
Take the FREE INFO TOUR NOW CLICK HERE
American Bill Money has been in business since 2003, American Bill Money is 3 tier affiliate program that offers the Deluxe Package for $125 a month. What you are actually buying is
Direct Mail Business Kit, ($125 monthly) (Out of Pocket or Out of Profit)
150 Virtual Sales Reps, (150 Post Cards, 150 ID Stickers & 150 Mailing Labels)
Less than 2 hrs. Month,
Do Your Fair Share Compensation Plan, (Refer 3,5,7 or more New Reps)
Earn $1,000, $4,000 or $10,000+ per Month in Residuals….Wow!)
Get Paid Daily, ($75 Fast Start)
Get Paid Monthly Residuals. ($25 on 3 levels) ($75 "Direct Deluxe" on Personals + $25 levels 2 & 3)
Receive a Free Online Marketing Website System With Me ABM Leaders
You can use the leads to promote your American Bill Money business or any other business, personal or otherwise, as well. ABM guarantees that each name and address on the list is deliverable and if returned, they will have the name replaced on a ratio of 2:1.
Also 150 attractive and full color ABM postcards are provided with your monthly Deluxe Package order. 150 ID stickers bearing your name and ABM number that you can use as materials in promoting ABM. The package also includes the following services:
ABM has the best pay plan available. An affiliate is paid $25 a month for each referral on every recruit on all 3 levels. There are no one or two-ups where you do not get paid. All your direct referrals are called your 1st level. For each of your referrals, you get $75 the very next day and then $25 monthly for each as long as they are active. You get paid weekly on your personal referrals as they pay their membership.
Referrals by your 1st level recruits are your 2nd level, each bringing you additional income of $25 per month. Referrals by your 2nd levelers will be your 3rd level for which you will earn another $25 monthly for each one of them. You will need only one active direct referral for you to earn commissions from levels 2 and 3.
If your looking at American Bill Money as an Income Opportunity for yourself, make sure you get the facts! If you have been struggling to make money online, this is an incredible offline opportunity. On the other hand if you're an online marketer just think what you can do with ABM and our online success system. ABM is a 10 year old Postcard Marketing Silent Giant in the Home Based Business world, members have been generating serious income for years by just mailing out postcards from home. Postcard Marketing Direct mail has proven to be a viable income source for many years. The most important thing is to stick with it and it will pay off.
ABM has been around since 2003 and members have been getting paid on time every time since the very beginning in 2003.
Many people who have stayed with ABM have earned very serious income. I know one who has made 1.3 Million in 8 years.
Go Direct To ABM Company Site Below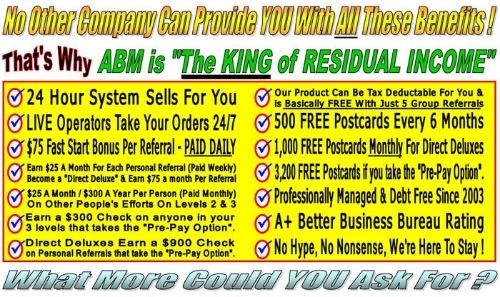 If your ready to get started you may signup online or with our Live Operators who are available 24/7 by phone at (757) 455-3551, the operators Do Not answer questions, they only take New orders from people ready to get started with ABM. Use my ID 3256 Join Our American Bill Money Postcard Team.
If you have any questions about American Bill Money you can call them direct at 757-638-8731 and they will be glad to answer any questions that you may have. After joining fill out the form to receive your ABM Top Team FREE MARKETING WEBSITE and system.
Thanks for reading my American Bill Money Review of Postcard Marketing and our online wealth system.
This is my personal website and not an official American Bill Money website. Please fill out the form to see our FREE TOP Team Marketing site HERE.

Demand Full-Time Support – Get It Here With Me
Questions? Call Me 480-258-3097 – I Answer or Call Back in Minutes. Ready to go? JOIN HERE NOW

I'm Jack Cupp with my Wife Olivia
My hobby is flying and building experimental airplanes.