Nov 20th, 2016
American Bill Money just keeps getting better all the time. I'm doing great and love it. After being a member for 3 1/2 years I just upgraded to the Pre-Pay membership. You can see the benefits on the post below. I should have done that years ago. More people are joining Pre-pay now they ever have. Those $900 fast start commissions paid the next day nice. Join ABM Pre-Pay today and I'll mail you a 1000 mail order leads on labels.  (free) ABM INFO
Oct 10th, 2016
The new American Bill Money Pay Plan  is incredible. Best comp plan in home business. Works great online and offline. Can't be beaten.  Scroll down for the comp plan. Here's a couple of my recent weekly commission checks.  Go here click on all the tabs and links. www.ABM3256.com Check out the Pre-Pay Option, no autoship and 3200 free postcards for a total of 5000 customized postcards. The monthly option is great too, low cost, a business in a box. Click the check, join now I can help. I can make you a free website and we have a capture page marketing system too.

ATTN: New American Bill Money Website & Comp Plan Info….               CLICK HERE
Aug 22th, 2016
One of my PrePay members renewed his account for the 4th year and a new autoship member joined for this check. Another PrePay check will be here next week. A PrePay member is an ambitious person who pays for the year in advance. They receive 3200 free postcards for a total of 5000 customized postcards and are qualified for the $900 commissions after their passup. No autoship that way. The ABM autoship member receives 150 postcards and leads monthly. Pays $75 per month per member monthly. Best of all products, it helps you build your business. No useless pills or potions. New hot comp plan here.
Join today,.  www.ABM3256.com
Aug 19th, 2016
NEW American Bill Money 1 UP Comp Plan Aug 1st
10 team members = $750 month Residual income
100 team members = $7500 month Residual income
YES…HUUUGE American Bill Money News!!!
ABM is going to a 1UP comp plan starting Aug 1st. Everyone's first person will go to sponsor at $75 Month residual. After that all personals will be $75 monthly residual for you instead of $25. All 1UPs will go to you to infinity at $75 month residual. Much better for new people to get in profit. Just 2 people after pass up pays your autoship. More details coming. New postcard below. The best home biz just keeps getting better. Not on the website until Aug 1st. NEW Postcard Below. I'll be talking to Paul Monday to get more details.
New info not on the company website until Aug  1 st  http://www.ABM3256.com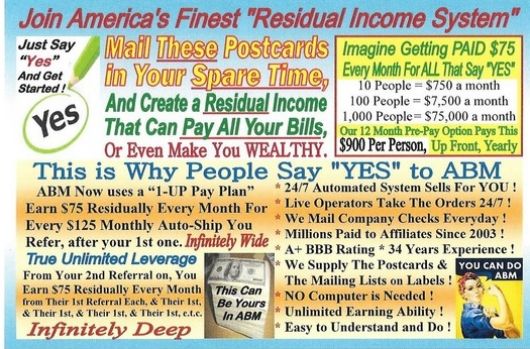 May 26th, 2016
American Bill Money the proven number 1 direct mail postcard marketing home business. ABM has been mailing out commission checks 6 days a week for almost 13 years. Others come and go, ABM will be here for years to come. Scroll down to the form below and I'll mail you one of ABM's professional full color postcards.  (USA)
March 9th, 2016
American Bill Money, the best in home income. I get tons of mail order type deals every week. All sorts, like mail a $20 bill to 5 people, Send 2 or 3 money orders and wait, and wait. Why bother? With ABM we have 24/7 live operators taking orders on the phone, (757)455-3551 use ID 3256, company owner takes calls, closes sales. Join online with a debit/credit card, (real business). Products and commission checks in the mail the next day. This has been the ABM way of business for over 12 years. Commissions paid daily. www.ABM3256.com Daily Fast Start Checks, Weekly and Monthly Residual Checks. In other words, "Looking For a Real Home Income? JOIN American Bill Money Today!
I Would Like To Mail You One of Our Full Color Postcards.. Just fill out the form on the Review Page..
Jan 20th, 2015
ABM is starting out great in 2016. The checks just keep coming in. I'm getting 2 sometimes 3 a week. I take this business very seriously.   Most people join on the companies 24/7 call center line. It's easy just call (757) 455-3551.  Join over the phone. Use Jack Cupp ID# 3256.  Call the company with questions here (757) 966-1790. I can help too, call me 480-258-3097 Mountain Time.  You can go here too.. www.ABM3256.com
Dec 28th, 2015
American Bill Money is better than ever after 12 years. Find out all you need to know right here. The new year 2016 is about to begin, take advantage of the home business rush and join now. Low on funds, you can join our trial membership for only a one time $25. You get a $75 coupon towards a thousand postcards and can make 100% commissions 3 times. Join now only $25 while it is still available, or better yet join as a regular member and be eligible for all commissions. $300, $75 and $25 fast start checks paid daily and 3 levels of residual income paid weekly and monthly!
Here's our exclusive team free marketing website..  www.abmleaders.com/redhot
OR
I Would Like To Send You a Free Postcard Just Fill the Form Below
April 18th, 2015
Lesson I Learned From Paul Korzeniowski, American Bill Money President.  With over 28 years plus of being his own boss, my good friend has shown me how to be successful also. In 2003 he started American Bill Money has been the best thing to happen to me. He has shown me how to make extra residual income right from home. Check out ABM and let me know what you think. ABM has been around since 2003 and is still going stronger than ever today! www.abm3256.com
Looking for a real business? Tired of all the online BS? Check this out…. www.ABM3256.com
April 16th, 2015
Here's our American Bill Money free marketing system, capture page, tour page and autoresponder system. This is exclusive for our top team members only. http://www.abmleaders.com/redhot After joining ABM and getting your ID# you can fill out the form on the second page to get your free system. All of out team members can provide this website to your their new members. (free)
SYNERGY WEALTH SYSTEM 
SYNERGY WEALTH SYSTEM